Pastor and Mrs. David Landers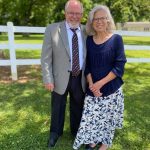 Pastor Landers and his wife Judy were both saved and baptized in the spring of 1975.
In January 1976, Pastor Landers enrolled in Tabernacle Baptist Bible Institute, where he received a Bachelor of Arts Degree in Church Administration in June 1979. When Judy finished her nurse's training in the spring of 1980, they began deputation in preparation for a church-planting ministry in Bolivia.
After establishing two churches in Bolivia, Pastor Landers and Judy returned to the United States, where he served as a mission representative and later worked with Hispanics in southeastern Pennsylvania.
Since 1998, when Pastor Landers came to Gateway Baptist Church, the Lord has given continual increase to the church. The families of GBC have a desire to grow in their personal relationship with the Lord and to honor Him with their lives.